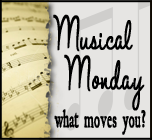 Thursday was my birthday. I'm not really all that into celebrating my birthday now that I'm so OLD, but Hubby got tickets for us to a concert in Chattanooga for Saturday night. My Mom stayed with the kids & we drove down in a friend's car because our van is STILL not running. We had a nice dinner in a Tapas wine bar. We'd never had Tapas, so that was a neat new experience. We ordered Greek salad, tequila shrimp, blackened pork tenderloin, mozzarella bruscetta & a LARGE glass each of a yummy Pinot Noir. We shared all the food & really enjoyed ourselves. We saw Celtic Woman at the Memorial Auditorium. This first video is a compilation from the current tour. I LOVE their new dresses!!!
This is their newest song...Isle of Hope, Isle of Tears, the tour is named for this song. This is an intensely emotional song & I was in tears before it was over, even Hubby shed a tear or two. This isn't the best quality video, but the audio is pretty good. I'll definitely be buying the DVD of this tour as soon as its available!
This is one of my favorite songs. Some of the women in this video are different than we saw, but it was still fabulous!
This is another of my favorites. The drums and the fiddle player are spectacular. Hubby couldn't help humming along to this one & I had to keep poking him.