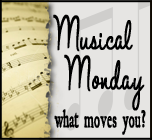 September is a THEME month for Musical Monday!!! Themes are so fun!!!
Sept. 7th - Song You Love To Dance To
Sept. 14th - Heartbreakers
Sept. 21 - Four Seasons
Sept. 28th - First Concert
This is a GREAT video, it starts out with the ending of another Joan Jett song I like.
Link up with Diane & Jori for
Musical Monday
& come join
Music Monday
and share your songs with us. One simple rule, leave ONLY the actual post link here. You can grab this code at
LJL
Please note these links are STRICTLY for Music Monday participants only. All others will be deleted without prejudice