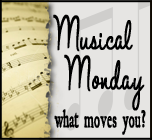 September is a THEME month for Music Monday!!! Themes are so fun!!!

Sept. 14th - Heartbreakers
Sept. 21 - Four Seasons
Sept. 28th - First Concert

1982 was a year of MAJOR drama in my life. This was one of my favorite songs & while everything worked out in the end, there were definitely days I felt like I was living the lyrics of this song.