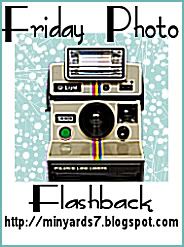 These pictures are from my Mom's photo album. I scanned them for a project I am working on. This first one is of me in my brownie uniform. The little boy with the brown hair is my Uncle....he is 5 yrs younger than I am. The little boy with the blond hair is my brother. The picture of the woman in the white cap and gown on the wall behind me is my Mom and the picture farthest to the right in the bottom row is me. The other pictures are of my Mom's 7 brothers and sisters and a couple of my cousins.
This picture is of me and my Grandpop. It was taken the same days as the one above.
Tomorrow is the last day to enter to Win a copy of the new
JumpStart Get Moving Wii game
!